Exterior Remodeling in Lubbock, Texas
Take a look at some of the projects Ultra Exteriors has completed over the years in the Lubbock, Texas, area. Our recent projects include installing siding, metal roofing, windows, and overhangs.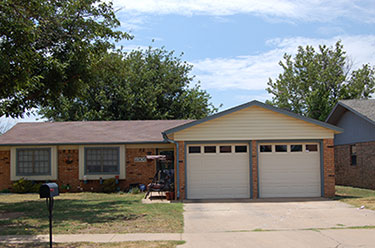 The Addingtons
Our relationship with the Addington family began many years ago. We installed siding on the home of Jackie's parents, Don and Trina Addington. While we don't have the exact date, we know it was in the early 1980's. Ultra Exteriors installed an overhang cover for Jackie and Valerie at their home on 80th Street in 1996. We took a picture of that installation recently, and it is included in these photos. They currently live on 87th Street. We installed some siding, windows, and an overhang cover on this home in 2010. Jackie and Valerie are true friends of Ultra Exteriors. Repeat business and loyal customers have been the foundation of our progress. Thank you for your continued friendship and business, Jackie and Valerie!
The Bakers
David and Lavelle Baker are good friends of the company and good personal friends. We have completed many jobs for them over the past 12 years. They tell the story better than we can! We installed as 26 Ga. steel roof for the Bakers. The siding is cape cod grey with white steel trim.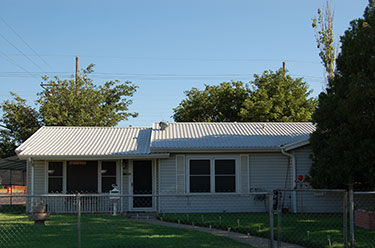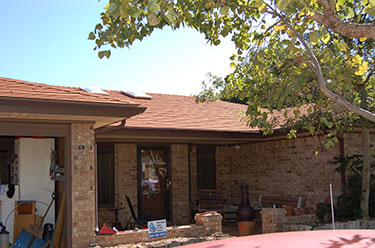 Steve Byars
We first met Steve Byars in 1979 or 1980 when we installed steel siding on his mother's house in Spade, Texas. Steve was a railroad engineer for many years and just retired last year. He knew when he retired he wanted to have his home as maintenance-free as possible. When he got ready to tackle the project, he called us. We gave him a quote on a Garrard steel shingle roof as well as Alside Super Spann soffit and steel Fascia. We installed these and completed our project. These pictures were taken in 2014. The job was done in 2010. Steve's house still looks brand new!
Sally Barfield
Sally Barfield is a classical pianist and college professor. She has the down-home charm of a "Southern Lady from Alabama." Sally chose Ultra Exteriors to enclose a patio and make it into "Sally's Room" in 2006. In 2009 her beautiful home suffered hail damage to the roof. We installed Timberline shingles. When she suffered hail damage again in 2013, we installed a new roof. We are so pleased to be chosen for multiple jobs. Thank you, Sally!